Trainings for mobile lift platforms – Warsaw and the whole Poland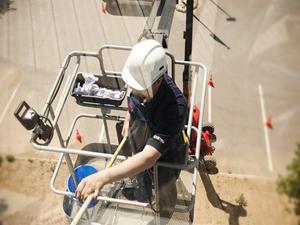 We kindly invite you to take part in trainings for mobile lift platforms in our Operators' Training Centre! We will teach you how to operate mobile lift platforms in an appropriate way. Thanks to us, you will obtain the UDT licence required to operate such devices.
Nowadays cherry pickers and scissor lifts are devices which are used in working at heights, including construction, installing, finishing and decorating works. Cherry pickers are usually mounted on the back of large vehicles and used in outdoor works, whereas scissor lifts are applied mainly in employing institutions. All devices of this type are subject to technical inspection.
We teach the operation of devices in the following UDT categories:
I P – slow-running scissor lifts, self-propelled cherry pickers, towed mobile lift platforms mounted to vehicles
II P – hanging, stationary and column platforms
We make every effort to provide participants of our trainings not only with the knowledge essential to obtain licence to operate a given category of devices but also its usefulness in the everyday work as an operator. Due to this fact our syllabuses contain useful information, but also exercises to show how to use the theory in practice. Our instructors take care of the highest level of education – we employ professionals with long-term experience.
Every training for mobile lift platforms provides the following information:
mobile lift platform – its types and construction
duties and responsibilities of the operator – before, during and after work
information on the technical inspection of the device
rules of occupational health and safety
practical exercises
After the training participants take the exam before the commission of the Bureau of Technical Inspection (Urząd Dozoru Technicznego). If they pass it they will obtain a UDT licence which valid indefinitely in Poland and abroad. There is a possibility to issue certificates in several languages.
Requirements:
You have to fulfil the following requirements to participate in the training for mobile lift platforms:
18 years of age
completed at least primary education
there are no contraindications to work as an operator
Price:
In our Centre you will pay less for the training for mobile lift platforms than in other companies. Our prices are competitive and in case of larger groups we have incentive discounts. Furthermore, price negotiations are also possible. Please check our prices in the pricelist or contact us through the question form.
Where are trainings held?
Trainings for towed mobile lift platforms are organized in our 4 branches in Poland. We run trainings for scissor lifts and cherry pickers in Warsaw, Cracow, Katowice ans Bielsko-Biała. We can also organize a training in any place chosen by the client in the whole Poland. We kindly encourage you to contact us to obtain detailed information on our services.
Should you have any questions we are always at your disposal, so please do not hesitate to contact us. Our employees will prepare exhaustive answers and deliver them as soon as possible.
We kindly invite you to familiarize with our offer!