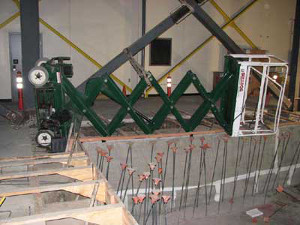 Various hazards are connected with operation of mobile lift platforms and every employee should be aware of them. Due to this fact, our every training for cherry pickers, scissor lifts or other mobile lift platforms provides also information on the occupational work and safety and the most often reasons of accidents at work connected with their operation.
While operating mobile lift platforms special caution must be taken and potential hazards must not be ignored.
The most common accidents at work connected with the operation of mobile lift platforms are the following:
falls from height and falls in the worksite
blows caused by inappropriate dealing with the materials
electric shock
hitting on the devices and constructional elements
being drawn in or caught by unprotected and working mechanisms
In most cases the accidents connected with the operation of mobile lift platforms can be prevented. Respect for the rules of the occupational health and safety and the Bureau of Technical Inspection (Urząd Dozoru Technicznego) is the most important as it significantly reduces the risk.
The most common reasons of accidents are:
failure to use mandatory personal protective equipment – protection against falls from height, this concerns also the case of installing platforms, including hanging structures
improper technical condition of devices, lack of periodic inspections and maintenance leading to the damage of the device
failure to use shields and protective equipment or their improper use which may cause catching employees by working mechanisms
improper technical condition of access ways to work places
failure to follow the manual of the device
carrying out works ignoring the occupational health and safety
improper condition of electrical installation of platforms
Being familiar with rules of the operation of such devices as self-propelled mobile lift platforms, towed mobile lift platforms, column mobile lift platforms and hanging platforms can reduce the risk of accidents at work. Unfortunately, numerous accidents are connected with improper operation of devices but they can be easily prevented, bearing in mind the occupational health and safety rules.
If you want to operate mobile lift platforms in a safe way, the training course in our Centre is the best choice!